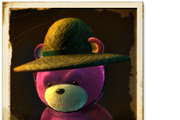 Pudding is a villain from Naughty Bear and is a proffessional gardener.
Paradise Island
Edit
Pudding is the 2nd target and the Narrator informs Naughty that he has created a Shark like Plant. The Narrator thinks Naughty should show him to his creation and see what happens.
Naughty manages to kill the gardener using the Shark Plant. The Plant grabs Pudding by the teath and throws him into the air, then Pudding is fully devoured with only a leg remaining.
Personality
Edit
Pudding is interested in gardening and must be be a proffessional if his capable of devolping a Shark Plant.