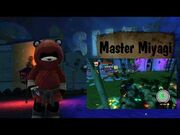 Master Miyagi is a villain from Naughty Bear and is a Ninja Bear.
When Chubby runs for Mayor, he gets 4 Ninja Bears including Master Miyagi to protect him from Naughty. Although, he gets punished along with Chubby.
Paradise Island
Edit
Master Miyagi is on the hit list of Naughty, and must be punished for cheating at a costume party. Naughty executes Miyagi by making the Pirates punish him themselves.