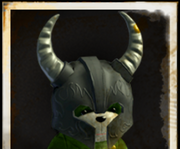 Goober is one of the villains from Naughty Bear and is a Black Knight.
Episode 2
Edit
Along with Sunbeam, Goober shouts through a speaker to let Perfection Island that Chubby is running for Mayor. 
Episode 4
Edit
Goober is one of the three bears that goes over to Nibbles for a cooking lesson with Daddles and Pudding. But he cannot be found the level unlike Daddles and Nibbles.
Episode 5
Edit
Goober is one of the bears who greet for Trembles return. He listens to Trembles plan of how he'll get rid of Naughty and turn his hut into a oil drilling area.
Paradise Island
Edit
Goober is the 3rd target on Naughty's hit list. Goober is throwing a costume party and Naughty goes to punish Goober. Naughty must steal a Costume from one of the Bears and choke Goober in the woods to shut him up for good.