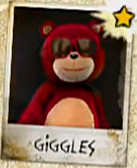 Giggles is one of the villains from Naughty Bear and is a laughable bear.
Episode 1
Edit
Giggles, along with Chubby, mocked Naughty while he was on his way to give Daddles a present. This made Naughty destroy his present and begin a killing spree to punish Daddles.
Episode 9
Edit
Giggles was at the docks, waiting for Bearbeard and the Pirates. This started a mission to find a treasure located at Naughty's hut. Then Naughty must stop the bears from finding the treasure.
Paradise Island
Edit
Giggles was in charge of the Guest list and he is located at the Resort Lobby. Naughty used a lawnmower to punish Giggles for not putting him down on the Guest list.
Ad blocker interference detected!
Wikia is a free-to-use site that makes money from advertising. We have a modified experience for viewers using ad blockers

Wikia is not accessible if you've made further modifications. Remove the custom ad blocker rule(s) and the page will load as expected.