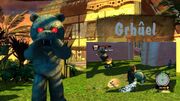 Grhuel is a villain from Naughty Bear and is an advanced plant creature.
Flopsey's creation
Edit
Flopsey created a plant monster called Grhuel, and Naughty must punish Flopsey for creating him. Naughty liberated Grhuel and made him kill Flopsey himself. 
Paradise Island
Edit
Grhuel has infected all the Gardeners in the Green house. Naughty needs to inject a Hebocide into the monster to put him back to sleep and does so.
Ad blocker interference detected!
Wikia is a free-to-use site that makes money from advertising. We have a modified experience for viewers using ad blockers

Wikia is not accessible if you've made further modifications. Remove the custom ad blocker rule(s) and the page will load as expected.