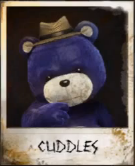 Cuddles is one of the villains from Naughty Bear and he is the first target in the second game.
Episode 1
Edit
Cuddles follows Daddles with a lolipop and is present in Daddles's level.
Episode 2
Edit
Cuddles claps for Chubby to become elected. He is also in Chubby's level.
Episode 7
Edit
When Daddles shoves a cake in the face of Naughty, Cuddles laughs at him along with the other bears. He is then destroyed with an RPG for Naughty's revenge.
Episode 8
Edit
He is too at the Party and Cop Gordon calls in Danger Bear and the X Bears. He talks to Stardust during the Party.
Paradise Island
Edit
Cuddles organised the trip for the Bears and is the first to be punished for his actions of not inviting Naughty. Naughty is to kill him anyway he wants.
Personality
Edit
Little is known about Cuddles, apart from the fact he never says no to an occassional hug.